Feathers: initial reactions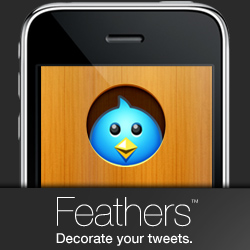 Within two hours of its release, my new iPhone app, Feathers, shot into the Top 25 in the Social Networking category in the App Store. Thank you to everyone who helped by tweeting, blogging, and – of course – buying the app.
If you haven't seen the short 1-minute screencast yet, what are you waiting for? Head over to feathersapp.com to watch it!
So what do people think of Feathers?
❤ from Inspired Magazine
Within days of release, the lovely folks at Inspired Magazine included Feathers in their post titled 10 Beautifully Designed iPhone [UI]tilities alongside such greats as Tweetie 2, Pastebot, and Convert.
Needless to say, I'm honored to have Feathers featured next to such greats.
Twitter ❤
I was floored by the initial response and the outpouring of love on Twitter. Here's a smattering of the initial tweets.
Love the humor and appeal to human emotion in @aral 's new app http://feathersapp.com/. Smart design.

– Aarron Walter, view original tweet
So impressed with @aral's new http://feathersapp.com that I'm making @Dabr work with it (Whaddaya mean that's no way to spend Friday night?)

– Terence Eden, view original tweet
Feathers iPhone App... best feature: "Play spy" http://feathersapp.com/ Genius app in a flooded Twitter app market.

– Zachary Johnson, view original tweet
@aral I can't believe you took something as serious as Twitter and did this.

Downloading now.

Awesome.

– Isaiah, view original tweet
MrDSaunders: #feathers is great little app with a good support forum. Check it out. Best 59p spend this year!

–Dave Saunders, view original tweet
❤ Feathers? Help me to spread the word!
Since I'm a one-person band, I can use all the help I can get to spread the word about Feathers. If you haven't already, here are a few things you can do that would really help out:
And, if you know any review sites, or magazines, etc., it would be lovely to see reviews of Feathers (I've submitted it to several and I'm waiting for responses from them.)
Finally, the introductory sale ends this Friday so please tell your friends.
Thank you all again for your wonderful outpouring of support and your wonderful feedback. I'm so happy to hear that so many of you are enjoying Feathers.