Feathers: decorate your tweets!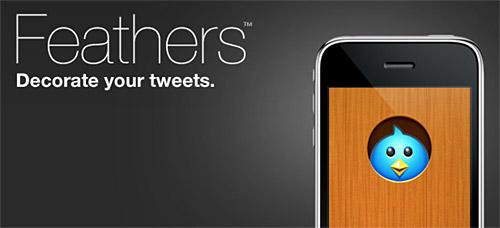 I just released my new iPhone app, a labor of love called Feathers.
It's a fun little app for decorating tweets, Facebook status updates, emails – anything you can paste text in, really, using your iPhone. Check out the site for a quick 1-minute screencast that takes you through it.
Feathers is on introductory sale at just US $0.99 / UK £0.59 / EU €0,79 – go grab it now and have a little fun with your tweets.
Help me take feathers to the Top 25 in Social Networking
I really worked hard to try and make Feathers a lovely little app to use. There's nothing I'd like more than to see it succeed in the App Store. So, I just set up a Facebook group titled Help make Aral's new app reach Top 25 on the App Store! – will you help me? With your help we can take Feathers to the Top 25.
Please join the Facebook group, tweet, blog, tell your friends! I'm already overwhelmed by the enthusiasm I'm seeing on Twitter just moments after the launch - if we can keep this going, I'm sure we'll see the little guy pop up on the App Store list soon!
Thank you all for your support and I really hope you enjoy playing with Feathers.